So I finally managed to get the whole customer service debacle behind me and got my Rogue transferred over from Alliance to Horde.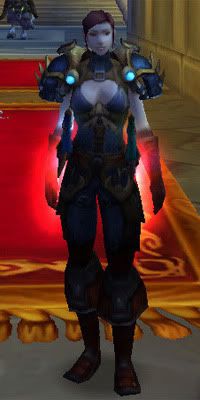 It occurs to me that while I enjoyed a lot of Alliance side's offerings, in the end I didn't have enough connections or feel like knowing people over there (( a lot of them were pretty much douches)), and so I ended up moving back. I miss the clothes more than anything, as human Misseri was beyond hotness with her slightly chubby features and corset-like top– but in the end, Undead have always been my babies, so the transition wasn't so bad.
Thusfar, everything on Horde Side seems unchanged– I'm looking into the idea of getting into a Raiding guild, and picking up the whole "RP'ing" thing again at some point, when I get my head around how I actually want this incarnation of Misseri to act (( I think we're officially on her fifth incarnation– the name will never change)).
But I've noticed something about both sides that leaves little to be desired, given the whole purpose of this server is Roleplay– If you aren't pretty, you aren't worth the time. Granted, you can get role play, but if a pretty little thing walks by and seems accessible at all, you tend to get ditched. I'm not saying everyone is like that, but making new connections comes down to that sometimes ((that and how far you're willing to go, and for a girl who doesn't "ERP", I'm kind of lacking in tastiness for most teenage males)).
I wish it were less true, because I personally find Undead females to be highly beautiful in their own way– they appeal to me more than the waif-thin Blood Elves, for sure, because at least Undead have a reason for their figures being gaunt. I think I gravitated towards them because of the fact that I prefer the flawed to the perfect. Undead kind of represent this subtle kind of beauty– you have to dig past the layers of decayed flesh to get to the tastiness of the personality, and while I like that, it doesn't work well in new role play. People tend to judge based on appearance first, and everything else later. It doesn't bode well for someone who prefers the rotting flesh, no?
I'm just kind of hoping I can find a comparable raiding group to play with that'll give me a bit of leniency on missing Raid dates considering the current situation of our internet flickering every now and again and me having to restart the router more than once a week. But… I guess we'll see. My hope is that I find a reason to enjoy my game again, because as it is now I'm getting in one of those agitated funks that makes me anti-social– and that's never fun for anyone.
Does anyone else who reads this game? Hell, does anyone else read all of these?